Saint Joe Alumni Aislinn Walsh is Making a Splash at The Ohio State University
A year and a half since graduating, Aislinn Walsh has made quite the splash swimming for The Ohio State University Buckeyes.  
Walsh had an incredible career as a Saint Joe Indian, highlighted by 3 straight runner up finishes in the 100 yard breaststroke at state, a 4th place finish in the 100 breaststroke her freshman year at state, two top 8 finishes in the 100 yard butterfly at state, along with playing a part in six top 16 finishes in relays, 3 of which were top 8 at state.  At sectionals, she remained undefeated in individual events her last 3 years, and captured a second place finish in the 100 yard freestyle and a third place finish in the 100 yard breaststroke as a freshman.  
Commenting on the foundation laid by her time here, Walsh said, "Saint Joe prepared me for being a student athlete by setting me up with the knowledge and time management skills learned throughout my four years as an Indian. I feel that because Saint Joe gave me a challenging schedule academically, which allowed me to challenge myself to be successful in the classroom before in athletics. Saint Joe also was extremely supportive of my swim career at the time, which gave me the confidence to know I could continue on at the collegiate level." 
Aislinn boasts an impressive GPA with a hard academic schedule to work with on top of her 20+ hour training schedule each week.  She is the perfect example for emphasizing the STUDENT in student athlete. 
Reflecting on her time as a Saint Joe Swimdian, she recalled it fondly.  "One of my most favorite memories from Saint Joe is that each year I was there, our team achieved something a little higher and greater. We went from being a 3rd place team in the Sectional to 2x champions in the Sectional. Another favorite memory is when Chris Walsh, my dad, accidentally dropped his stopwatch in the pool, at the Sectional Championship in 2016, during my race because he was so excited." 
Her father, a volunteer assistant coach for her four years on the team, swam at Notre Dame when he was in college. Bringing plenty of knowledge about the sport,  he was definitely a team favorite hype man.  Everyone on the team could tell he cared about the success of each individual swimmer, and more importantly, the team.  Aislinn's contributions to the program helped lead the way to 2 top 10 finishes at the state championships (8th in 2018 and 6th in 2019), and Mary Cate Pruitt's state championship in the 500 yard freestyle in 2019 helped push the team as well.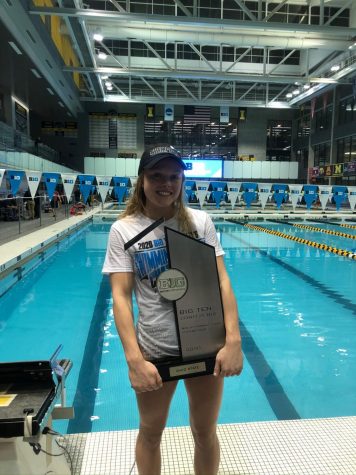 "Saint Joe swimming is extremely special to me because they are on a continuous path to excellence. The group of people in my time at Saint Joe, and the years prior and after my time, are the most hard-working, driven, and gritty people I have encountered. I have my Saint Joe swim team, coaches, and school to thank for pushing and supporting me in my dream to compete at the Division 1 level." 
Walsh's work ethic, both in the pool and in the classroom, helped establish her as a leader on the team over her four years as an Indian.  Her energy was that of a natural leader and she used that to help get everyone through some of the toughest workouts of the season – especially with her singing.
Walsh's advice for student athletes looking to compete at the collegiate level, "If you want it bad enough, you will find a way. College is not the reward; it is the pursuit of an opportunity to keep growing and challenging yourself. There are always going to be times where it is unbearably difficult, but they make the successes much more special! With that said, push through your challenges as hard as you can for as long as you can, and you can accomplish anything."  It certainly is working for her. 
Walsh is majoring in nutrition dietetics and runs a social media account on Instagram detailing her special gluten-free and plant based recipes (@craisycupofcoffee).  She has amassed a pretty large following of 1,108 people interested in her creative baking and cooking techniques.  (I've tried a lot of the recipes and I'm not gluten intolerant or on a plant based diet and the food is good, trust me).
Walsh's mark on the Saint Joe swimming program can be seen by her multiple school records, but continues to be felt by the growth in the program that will last for many years to come.