Saint Joe Students Travel the World: Punta Cana
After a five hour flight with her immediate and extended family, Saleena Vu arrived in Punta Cana, Dominican Republic. This week in July of 2019 was a memorable time for all who traveled, for it allowed them to experience this incredibly beautiful country and that comes with it.
The warm weather greeted them as they exited out of the airplane through a flight of stairs as opposed to a jet bridge, which made Saleena "feel like a celebrity". The Vu family stayed at a massive resort that caused the family to get lost multiple times (don't worry- they always found their way back to each other). As they walked around the town, many stray cats and cranes roamed the streets and dominated the area. These wild animals caught the travelers off guard, for they had become accustomed to the sight of squirrels and deers back home.
Their interaction with other animals was not limited to the ones who roamed the street. The family was able to feed monkeys, who enjoyed messing around with the group, and they also had the opportunity to swim with dolphins.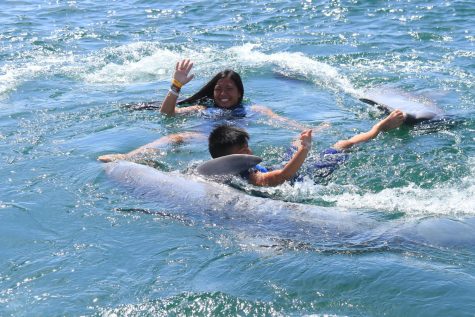 Dolphins were not the only sea creatures the family spent time with!
While the family enjoyed being active through other fun activities such as zip-lining and parasailing, they also took time to relax and enjoy the environment without much movement. When they took time to go out to dinner, the family noticed how incredibly polite everyone was compared to back home. A majority of residents and workers spoke Spanish, so the Vu family was fortunate their dad spoke fluent Spanish to be able to communicate with those they were surrounded by.
They took advantage of this wonderful time to capture family photos. They wanted to remember their trip forever.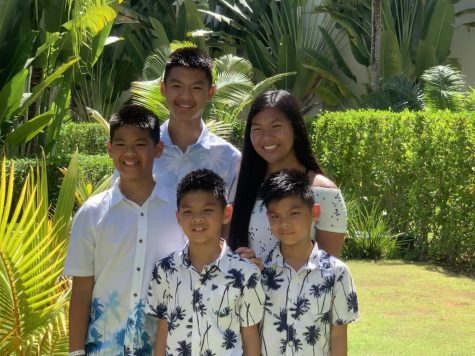 Surprisingly, Saleena claims the most memorable thing to her about the trip was how delicious their orange juice was. Oranges are locally grown, so it would only make sense that this beverage would be so memorable!
Their week was full of sun and adventure and Saleena cannot wait for the pandemic to be over so she can travel with her family and experience new and amazing locations.