The End of the Line at Regionals
Three Saint Joe wrestlers competed in regionals on Saturday, February 6 at Penn High School. Jacob Marscola, Amarion Parker, and Brady Farrell showed valiant effort in their matches but unfortunately lost, ending their season there.
Senior Jacob Marscola accomplished his goal of reaching regional for wrestling, the furthest he has ever reached with only two years of experience. He wrestled in the 195 lb weight division, facing against a Plymouth High School wrestler, and lost by getting pinned with only 10 seconds remaining in the first period.
Junior Amarion Parker faced against another Plymouth wrestler in the 160 lb division, and it was a pretty even match until the second period. By the time the third period reached, the Plymouth wrestler was able to finally get a pin, but Parker proved a tough challenge for the Plymouth wrestler and gave terrific effort in his last match.
Finally, freshman Brady Farrell accomplished his goal of reaching regionals in his first year of high school. He wrestled against a Mishawaka wrestler in the 132 lb division but unfortunately lost by a Fall in the first period. Farrell's hard work and promising talent will help project himself and the team in the future as he is only a freshman.
COVID might seem to shorten their season, but they were able to get in more matches this year than last year. They faced at least 23 schools in about 13 meets, showing more competitiveness among themselves as they are having fun.
"This was a great season, and the team's got a lot of talent to look forward to in the future," said senior leader Jacob Marscola. "We came into this season not even sure if we'd be able to wrestle a single match, and it all ended with bringing three wrestlers to regionals."
Marscola showed outstanding leadership and mentoring towards his underclassmen, and he wishes that he had joined wrestling sooner. "If anyone is even remotely curious to know if wrestling is their sport, please try it. Trust me, you'll be just as surprised as I was."
About the Writer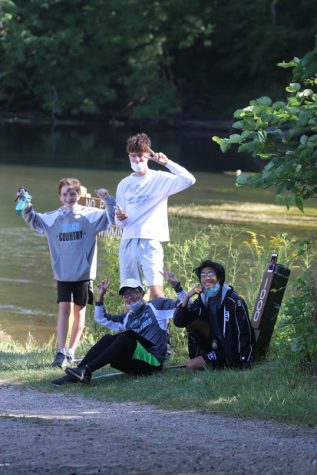 Erwin Luu, Reporter
What's up! My name is Erwin and I'm a senior at Saint Joe. I do cross country and track and love climbing trees.