Girls' Golf Senior Night
Despite being one of the smallest teams at Saint Joseph High School, the girls' golf team leaves their mark on the conference. The girls have been competing in tournaments and matches since the beginning of August, and will continue to perform until the end of September.
The girls competed against Penn, their biggest rival, on August 28, and came out successful, beating both Penn and Bremen with an overall score of 176. They hope to keep the good momentum flowing as they approach the NIC tournament on September 12, and sectionals to follow soon after.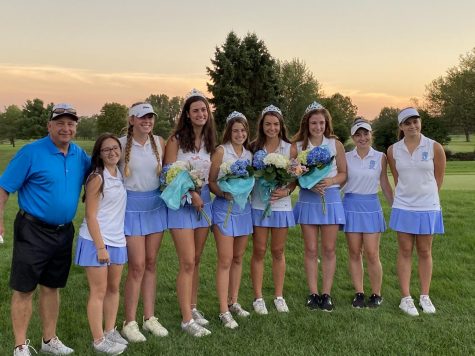 Overall, the team consists of eight girls who are determined to make their mark. Four of these members are a part of the senior class, Dot Crumlish, Izzy Riboni, Bella Saratore, and Katie Kloska, who were recognized this past Thursday at their senior night! The team triumphed against Washington as they congratulated and appreciated the seniors on the team. Be sure to wish the girls luck as their season comes to a close!