Standout Artist: Lucy Williams
Inside look at one of Saint Joe's most talented artists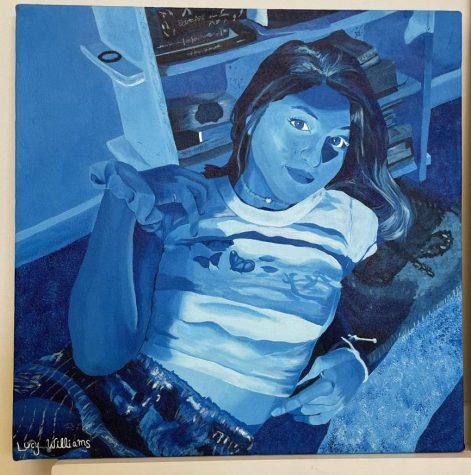 "
I was inspired by the mood of the picture I was painting it off of. I felt like the mood was relaxed and somber so I decided to make it monochromatic all in blues."
— Lucy Williams
Saint Joe Junior, Lucy Williams, has always had a creative mind when it comes to her art and style. I have had the privilege of being in same art classes as her, and to see what she has been working on and what her inspirations are. First, Williams had said how she got into art, she replied by saying about how her grandma first gave her the love for art. She would go to her grandparents house everyday after school in 1st grade, where Williams and her grandma would do various amounts of art projects, such as painting and drawing. Looking at some of her works that are hanging in the art hallway, you can see the detail in her works and the effort she has put in. A little background about Williams is that she attended St. Anthony grade school and has been an active part of the Saint Joe community. Williams is involved in various clubs such as CRS (Catholic Relief Service), National Honor Society, Art Club, and HOPE Club.
Most rece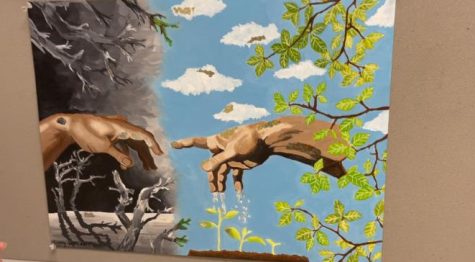 ntly, she has joined the musical, where she has a lead role as the chef! Since she uses many different mediums,  she said some of her favorite mediums to use is paint, both acrylic and oil, and she quotes, "they blend much better together than pencil or oils." Williams has entered about 15 pieces of hers into the Scholastic Art and Writing Awards this semester, varying in many different pieces from painting and photos. Her inspiration for most of her art is music, her family and friends, and life experiences. She enjoys painting people, like her friends or celebrities.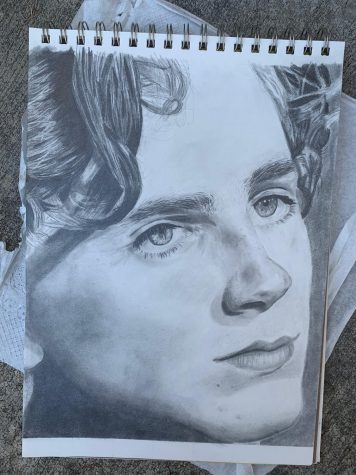 For example, her good friend Felicity Nolan, who she painted in monochromatic blue colors, and she drew actor Timothee Chalamet, with pencil. She thrives best in an environment where she feels comfortable, which happens to be Ms. Firestone's class. Over the years, Williams and Miss Firestone had grown close and formed a special bond. Williams finds it more beneficial to have close relationships with her teacher, as it allows her to ask for help more easier. She pulls inspiration from famous artist, Vincent Van Gogh, who happens to be her favorite artist. Though she thinks that is a typical and basic answer, it tells a lot about her. It shows that is has an old soul, and appreciates famous and old work. Williams also enjoys making ceramic pieces and working with clay. She enjoys hanging out with friends and family in her free time. She plans to take AP Art next year, which is a more rigorous art course, and is more focused on a certain topic the student picks. For AP Art, a lot of pieces are required and definitely take a lot of time and effort. Lucy is also related to another talented artist here at Saint Joe, Mary Miller! Williams and Miller are first cousins, who share the same grandma who taught and inspired them about painting. As seen in the classroom, they help each other out a lot with tips and tricks on what to add here and there. It definitely runs in the family, because they also have another talented cousin who draws and has his own Youtube channel. It has been a pleasure to have class with Williams and to get to know her better and better everyday. She always takes the extra step to help others around her and is a positive and radiate energy to be around.