Commitment Spotlight: Peyton Hull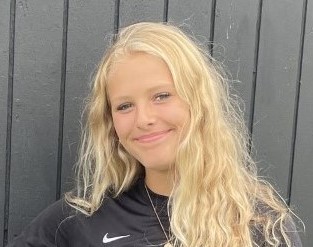 Peyton Hull, a junior at Saint Joseph High School, has committed to playing soccer at Samford University after finishing her high school career. Hull has been playing soccer for 6 years and has been on the SJHS soccer team for 3 years. This season, she earned a First Team All-State award for high school girls' soccer.
The Saint Joe Girls' Soccer season record was 17 wins, 3 losses, and 1 tie. Hull played a total of 1,669 minutes this year. She started 21 games, only allowed 9 goals the entire season, and let in an average of 0.431 goals per game. Hull had a standout year with 93 saves her junior season, and recorded 13 shutouts.
When asked why Samford was her top choice, Hull responded, "I chose Samford because out of all of the schools I was in communication with, Samford had the coaching staff and facilities I was looking for and overall just felt like home." Hull, the goalie of the Saint Joe Girls' Soccer team, likes the thrill of making saves that change the course of the game.
Hull's favorite memory with the Saint Joe Girls' Soccer team is winning the regional title against Valparaiso High School. She loves traveling with her team and enjoys spending time with her teammates.
Anyone who knows Peyton knows her personality is less than quiet or shy.  Classmate, teammate, co-captain, and friend of Peyton, Ella Frick,  says, "Peyton has been one of my best friends since we were in pre-school at St. Pius. She is such a hard worker and pushes me to become better when I am with her. I can't wait to be captain alongside her next season because we have been dreaming about this for so long."
Hull's schedule is rigorous. Currently she is playing school basketball along with travel soccer As soon as school basketball season ends, she will begin travel basketball while still playing travel soccer for exposure. 
When asked how she balances academics with her demanding athletic schedule, she said,"It's very difficult because twice a week I go down to Indy for practice and so on the way down I have to utilize [the] time that I'm traveling in the car to do my homework and to study also." 
Outside of school, Hull is passionate about community service and spends her scarce free time volunteering with youth and teaching them how to play basketball and soccer through local travel programs. She also plays travel soccer for the FC Pride club based out of Indianapolis, and travel basketball for the Indiana Attack Basketball Club or the IABC. 
Peyton enjoys traveling, spending time with her sisters , Reese (13),  Sydney (18), and her parents, Jennifer and Brian. When asked what her biggest inspiration in life was, she answered her family. However, Hull says that what makes sports enjoyable for her is "the community of girls that she plays with" along with "getting to compete and win." 
Hull looks forward to finishing her high school career and continuing to pursue soccer at Samford.
About the Contributor
Peyton Hull
Hi! My name is Peyton Hull and I am a senior at Saint Joe! I am currently the captain of the varsity girls soccer team and also am a member of the basketball...