Saint Joe standout Pete Buttigieg nominated to be Transportation Secretary
If I had told you a couple years ago that the winner of the 2020 Iowa Caucus and a future presidential cabinet member went to Saint Joe, would you have believed me? Well, it's true.
After a bid for the Democratic nomination for President, Pete Buttigieg has been nominated by President-Elect Joe Biden to serve as Secretary of Transportation. The former Mayor of South Bend is set to take his talents to Washington D.C. and run the federal agency of nearly 55,000 employees that oversees America's airlines, highways, and transit systems while having an $87 billion budget under his belt. He will draw on his mayoral experience in South Bend in this role and will certainly be working with the President-elect on his push for a bipartisan infrastructure package. As a presidential candidate, Buttigieg released a $1 trillion infrastructure plan where he prioritized rebuilding America's roads and infrastructure, while drawing attention to the importance of local government officials in facing these challenges.
In a statement released Tuesday, President-Elect Biden said Buttigieg is "a patriot and a problem-solver who speaks to the best of who we are as a nation. . . I trust Mayor Pete to lead this work with focus, decency, and a bold vision — he will bring people together to get big things done." The Mayor himself tweeted that "this is a moment of tremendous opportunity — to create jobs, meet the climate challenge, and enhance equity for all," adding that he is "honored" to be nominated for the position (click here to read more on his nomination).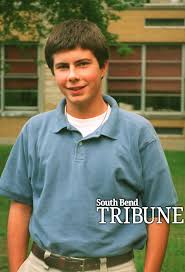 Buttigieg, who graduated first in his class at Stanley Clark Middle School, came to Saint Joe in 1996. As a quiet, intelligent student, he excelled academically and was a member of the Cross Country team, Quiz Bowl Team, and Nationally-ranked Fed Challenge team. By his senior year, his peers recognized his potential, voting him to be Senior Class President, as well as "Most Likely to be U.S. President," an honor that people would remember through his presidential run. Another hint of public service came when Buttigieg won the "Profiles in Courage" essay contest in 2000, praising Bernie Sanders in his stellar writing. He finished the essay by saying, "I have heard that no sensible young person today would want to give his or her life to public service. I can personally assure you this is untrue."
It wasn't just his peers that saw it in Mayor Pete, it was also his educators, especially Mrs. Julie Chismar who guided him through Fed Challenge and AP Economics. As she said in her speech at Buttigieg's announcement, "Even now as it was then, it is easy to be dazzled by Peter. Smart, full of vision, contagious energy, authentic, so accomplished, and approachable." Chismar, who later became a surrogate to the Pete for America campaign, knows Buttigieg well and even attended the October 2019 Democratic debate as his guest.
Buttigieg's academic resilience led him to be named Valedictorian of the class of 2000, followed by admission to Harvard University where he studied international relations and Arabic. There, he would go to school alongside people like Colin Jost, the current host of "Weekend Update" on Saturday Night Live, and Mark Zuckerburg, the founder of Facebook. After being chosen as a Rhodes Scholar, an honor that allows one to study at Oxford University, he completed his education and worked in consulting at McKinsey in Chicago. There, he analyzed consumer data and behavior, formulating policy advice to companies and government agencies. Though his financial well-being was thriving under this occupation, he returned to Indiana to run for State Treasurer in 2010, trying to make a name for himself in Indiana politics. He would end up losing by 25 points, but this opportunity sparked a political interest in the young candidate as he went to South Bend in 2011 to run for Mayor and won. He would end up taking a 7 month unpaid leave in 2014 to serve a tour in Afghanistan as a Naval Intelligence Officer
Serving two terms from 2012 to 2020, he revitalized the city of South Bend. After the city of 100,000 was named a "dying city" by Newsweek at the beginning of his term, he turned it around; income per capita rose, downtown South Bend brought in new investments, and new education centers were created.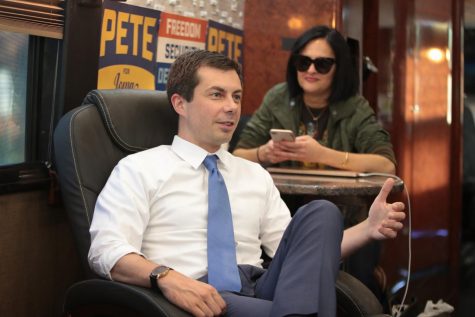 In the final term of this stint in South Bend, Buttigieg began his 2020 campaign that has come to largely define his national political career. Having announced an exploratory committee to run for President in January 2019, he started with limited support. With no large email list, personal fortune, or national recognition, the Saint Joe Grad built himself up, garnering enough donors (65,000+) to qualify for the first primary debate. A March 2019 CNN town hall was what seriously grew Buttigieg's campaign; the national media began to focus more on the young, war veteran Mayor from South Bend, Indiana.
By the time his exploratory committee was visibly successful, it was clear he would officially announce his bid for president. On April 14th, a rainy day in South Bend, he took the stage at the Studebaker factory to proclaim his candidacy. In front of a roaring crowd, he said the words, "My name is Pete Buttigieg. They Call me Mayor Pete. I am a proud son of South Bend, Indiana. And I am running for President of the United States." With a campaign focused on the ideas of belonging and looking to the future, rather than the past, his speech brought out a major theme he was passionate about: the fact that he is so different. He said, "It's time to walk away from the politics of the past, and toward something totally different." Many had doubted his success when he first announced in January, but by the time April came around, more people were enticed by the Mayor from Indiana. He no longer seemed like a long-shot in a field of 28 candidates–he was a front runner.
"
It's time to walk away from the politics of the past, and toward something totally different."
— Pete Buttigieg
Mayor Pete quickly became accustomed to the hustles of the campaign trail–shaking hands, kissing babies, and eating pork chops at state fairs. With a growing national presence and a decent fundraising mechanism, he became more competitive in early primary states such as New Hampshire and Iowa, a state he would end up winning. Prominent polls such as the Quinnipiac and Des Moines Register began to show a candidate that was skyrocketing. In fact, in April he was in third place in states like Iowa, incredibly impressive considering where he began. Though this position would fade after questions of his handling of a police shooting in South Bend began to arise, he maintained a national following. In fact, by the December debate, he was the target on stage as candidates, ranging from Senators to a former Vice President, attacked him on various issues, including a "wine cave" fundraiser that Senator Elizabeth Warren took particular issue with.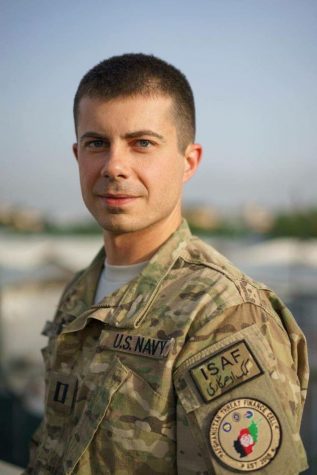 By the time the new year rolled around, Buttigieg was no longer Mayor of South Bend and could focus full-time on his campaign as 2000 Saint Joe Grad James Mueller would take over the role. Although the former Mayor was in a strong position in states with predominantly white populations, such as Iowa and New Hampshire, he was struggling with support from black voters. Buttigieg made many attempts to garner more traction from the community and made more visits to South Carolina than any other candidate. This lack of support would prove to be consequential in the final stages of his campaign as he garnered low black support in the South Carolina primary. 
Mayor Pete's shining moment came after his historic win in the Iowa caucus which, after many delays, was ultimately claimed by Buttigieg in a thin margin. "By the time it's all said and done, Iowa, you have shocked the nation," said the former Mayor. "An improbable hope became an undeniable reality." Buttigieg won 61 of Iowa's 99 counties and did impressively well in rural and suburban areas, with his campaign releasing a memo reading, "Our data shows that Pete built a coalition that proves he is the best positioned to beat Donald Trump." Historically, seven of the last nine Democratic Iowa Caucus winners went on to win the nomination, giving the Pete for America campaign a calm confidence that they would carry into New Hampshire.
"
By the time it's all said and done, Iowa, you have shocked the nation."
— Pete Buttigieg
The following contests would prove to be strong for Buttigieg, but his standing would decrease in every contest that followed. Finishing 2nd in New Hampshire, 3rd in Nevada, and 4th in South Carolina, it was clear that Buttigieg had no way forward in the presidential primary. Following a commanding victory by Joe Biden in South Carolina, Pete Buttigieg bowed out of the race on March 1st. In an address from the South Bend Century Center, he ended his campaign with the same values he began them with. "I know that as this campaign ends, there comes disappointment that we won't continue, but I hope that everyone who has been part of this in any way knows that the campaign that you have built and the community that you have created is only the beginning of the change that we are going to make together," Buttigieg said. "I firmly believe that in these years, in our time, we can and will make American life and politics more like what it could be, not just more wise and more prosperous, but more equitable, and more just, and more decent."
The Mayor's historic campaign came to an end. His campaign headquarters, located in South Bend, went empty and supporters across the country praised Buttigieg for his historic campaign. With his campaign being suspended, he received calls from other candidates, as well as former President Barack Obama. Nearly 24 hours after his announcement, he would endorse Joe Biden in Dallas, Texas, essentially guaranteeing Biden's nomination.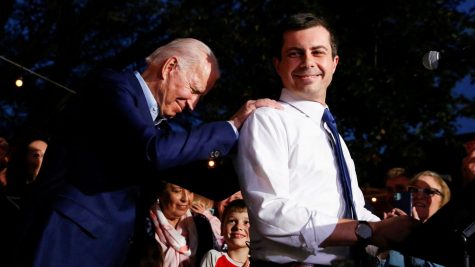 Following his run, he began several projects. He released a new book, Trust, began a new podcast, and started a PAC called "Win the Era" that supports Democrats up and down the ballot. He also acted as a surrogate to the Biden-Harris campaign, frequently making media appearances and going on the campaign trail in the fall; he even played the role of Vice President Mike Pence in Debate prep with Kamala Harris. He also became a fellow at the University of Notre Dame for the 2020-21 school year, teaching undergraduates in topics related to trust in our political system.
Pete Buttigieg turns 39 the day before Inauguration Day, making 2020 just the beginning for his Presidential aspirations. The former Mayor is more than likely to make a bid for the presidency once again. Whether that may be 2024 or 2028 is still up in the air, but he has proven to be an effective campaigner and communicator, attaining a character that suits the office of the presidency. 
Buttigieg's nomination as Secretary of Transportation should serve as a source of pride for South Bend and the Saint Joe community as the country acknowledges this extraordinary achievement of our alumnus. As one of the youngest people to ever enter the Cabinet, Pete Buttigieg has cemented himself as a noteworthy graduate of Saint Joseph High School – one who aspires to build upon his contributions to South Bend by serving the nation as a whole.