Pizza Review: Starlight Pizza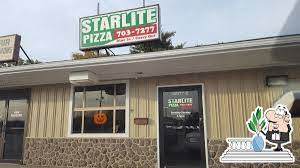 The sauce is sweet, this is what I proclaimed in response to tasting Starlite pizza. Starlite which specializes in pizza, pierogis, sandwiches, and salads has over 60 years of experience the in the industry being founded in 1958. Starlite started in 1958 on the west side in a building that now is a Mexican restaurant. Since its founding in 1958 Starlite has grown into two neighborhood locations: one on Ireland road on the south side and the other being relocated on the west side off of Mayflower.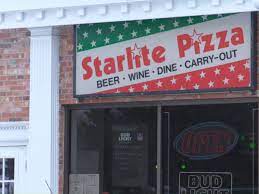 The Sunday night pizza review never sounded more appetizing as I arrived at west side starlight pizza after work. Starlite's hours said they were open until 9 o'clock but as it turned out they were only open until 8 as Jordy and I walked in with 5 minutes until closing time. Starlite is a small location located on a strip mall right next to Eby's meat market.
The inside is small but efficient with many booths for dine-in eating. The pizza came out surprisingly quickly that being in only 15 minutes. The pizza had the iconic sweet sauce and it was surprisingly crispy for only waiting a short 15 minutes. The cheese was lower quality and very gooey but the mushrooms and sausage eclipsed the low-quality cheese. The crust supplied a satisfying crunch and I was too hungry to be disappointed by decent pizza.
Because of the iconic one-of-a-kind sauce, the crispy crust, and the circumstance of arriving 5 min before closing time I gave this pizza 7.5. Starlite also specializes in deep-fried pierogis and because of this westside staple I had to try one as well.  Along with the pizza I ordered a pierogi which can come in a variety of different options including cheese, mushroom, potato, etc.  The mushroom pierogi was very crispy and flavorful and the mushrooms seemed semi-fresh. Because I was very hungry and the fact that pierogi was crispy I gave it an 8.2. So to reiterate 7.5 for the pizza and 8.2 for the pierogi.