Our New Nurse: Mrs. Harshman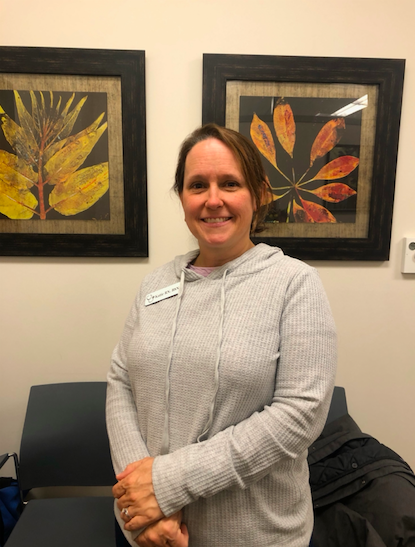 Hey Saint Joe! Have you met our new school nurse?
Her name is Mrs. Harshman and she has been a nurse for over 20 years (22 years to be exact). She has been a nurse at Saint Joseph Grade School most recently but has also worked at many other places in our area. 
Additionally, Mrs. Harshman is a Saint Joseph High School alum, having graduated from here in 1993. Her husband, Mr. Harshman, also graduated from here as well and previously worked at this school as an assistant principal. She currently has two children – Sam and  Joey – attending Saint Joe as well and her other children attend Saint Joseph Grade School. 
"I wanted to become a nurse because I had two family members who were also nurses, that being my mom and my older sister," she says, "and they assisted in my inspiration and interest in helping people and wanting to help people as an occupation." She also mentioned that she always had a passion for medicine and science in general which has particularly aided her as well. In addition, she states that her favorite part about being a nurse is having the ability and opportunity to interact with and assist a larger group of people, especially young people. 
Although she has only worked at SJ for about a week, Mrs. Harshman has expressed gratitude for the Saint Joe Community. "The faculty and staff are very welcoming and I can tell that they care for the student's well-being very much". 
Make sure to say hello to Mrs. Harshman!